TCFL @ Home
Find
Visit
About
Home > Find > Maryland Room
The Maryland Room
Local History and Genealogy Special Collections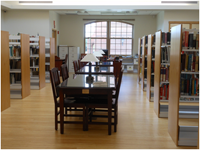 Talbot County Free Library's Maryland Room Collection features materials that contribute to the knowledge of the social, civic, religious, economic and cultural life of Marylanders both past and present. Within the collection there is a special emphasis on material relating to Talbot County and the Eastern Shore of Maryland.
The Collection is open to the public for all areas of research. Prior to visiting please look at the policies governing use of the collection.
The Maryland Room hours of operation vary. To ensure that the Maryland Room will be open when you visit, please call or e-mail ahead of time to schedule an appointment.
Becky Riti, Maryland Room Librarian
Maryland Room
100 W. Dover Street
Easton, Maryland 21601
410-822-1626
410-820-8217 (fax)

© Talbot County Free Library